Have you ever thought of eating curry and rice? Here is a South-African way to make it
The Curry and Rice is an old-school ultimate South African comfort recipe.
It is typically found at the local church bazaar, vessels filled to the rim, topped with fruity Chutney and a tablespoon of coconut.
The South African Curry and Rice is also mostly made for dinner during periods of heavy rainfall and thick dark clouds. Almost every South African family knows it's time for this meal.
Cooking time
50 minutes
Recipe category
Main dish
Recipe cuisine
South African
Cooking method
Steaming
Recipe Yield
6 servings
Ingredients
2 cups of boiled rice
Minced beef
curry spice
turmeric
sugar
vinegar
tomato sauce
fruit chutney
finely chopped carrot
cubes of potatoes cooked to perfection
desiccated coconut
sliced bananas
Chopped Onion
Ground garlic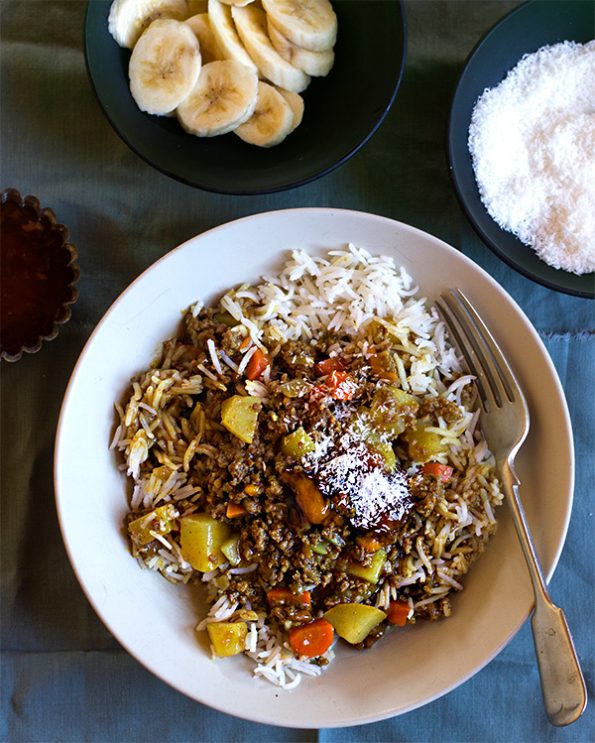 Instructions
Sauté the onion with the garlic until fragrant, add a cup of water then add the mince and work it through with a wooden spoon to brown for about 10 minutes. Check through and stir even now and then so the meat can cook evenly.
When the meat is brown, add a cup and half of water with the carrots and potatoes. Leave it to cook for about 10 minutes till the potatoes and carrot feels soft.
Get a bowl and mix the tomato sauce, vinegar, sugar, curry powder, turmeric, flour, salt and chutney. Pour it into the cooked mince and mix.
Let it cook with the little liquid left in the pot which will make the sauce thicker.
Lower the heat and let it simmer for about 15 minutes.

Served with rice, extra chutney, desiccated coconut and sliced bananas!